The Bank of Cyprus Oncology Centre: Supporting Life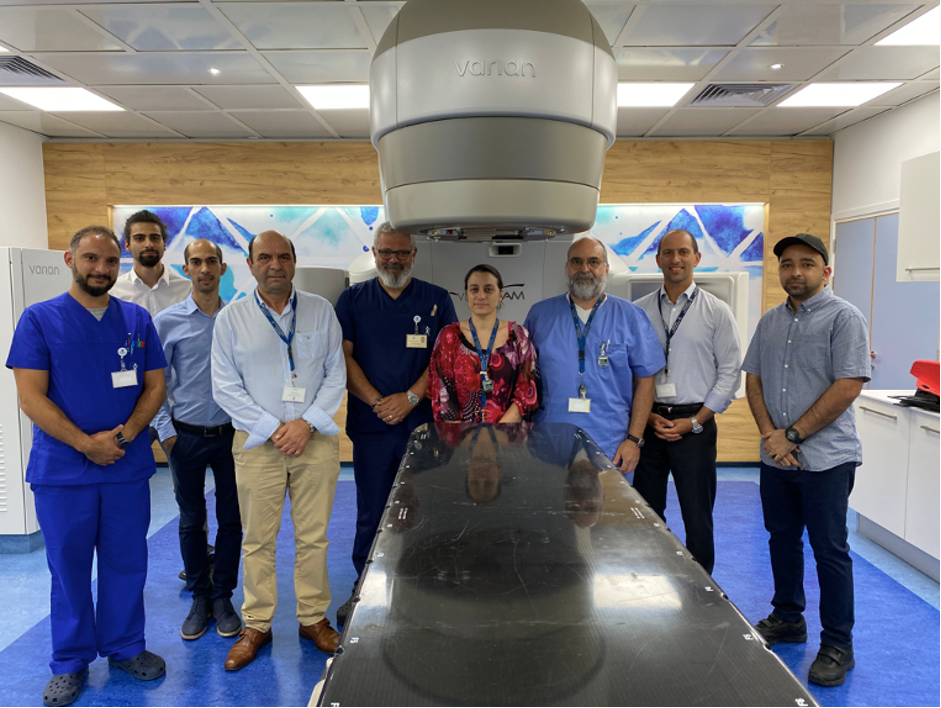 Posted at: 18 Mar 21
Over the last 18 months, Attikouris Medical has implemented one of the largest medical technology investments in Cyprus. Commissioned by the Bank of Cyprus Oncology Centre, we were charged with providing three state-of-the-art linear accelerators for cancer diagnosis and treatment. This process took 12 months, and resulted in the installation of 2 Varian TrueBeam and 1 Varian VitalBeam accelerators that represent some of the most advanced technology on the planet for cancer treatment.
Today, we look back at the last 18 months. We are grateful to the Government of Cyprus and the Bank of Cyprus for funding this amazing institution known as the Bank of Cyprus Oncology Centre. We are honoured to support so many motivated doctors and staff. And we are profoundly grateful to our suppliers, Varian, for their superlative work and technology.
This is our story.
Part 1: The Bank of Cyprus Oncology Centre
Founded in 1998, the Bank of Cyprus Oncology Centre (BOCOC) represents a radical idea of corporate governance in Cyprus. The Centre is managed as an independent, private, non-profit Organization. Its capital expenditure is paid by the Bank of Cyprus while its operating expenditure is provided by the Government of Cyprus. It is one of the first, and most successful, public-private partnerships in Cyprus.
The Centre is a self-governing, independent organization. Compared with oncology provision in the United States or the United Kingdom, the Bank of Cyprus Oncology Centre is a model of excellence and public good.
There is no waiting time for cancer treatment. If cancer is diagnosed, treatment can begin immediately—literally on the same day if needed. Once all evidence is at hand, the patient case is discussed in the specialized Multi Disciplinary Team (MDT) meeting and as per the decision, the treatment starts.
The Centre was recently accredited for CHKS Standards, one of the highest standards for healthcare management in the world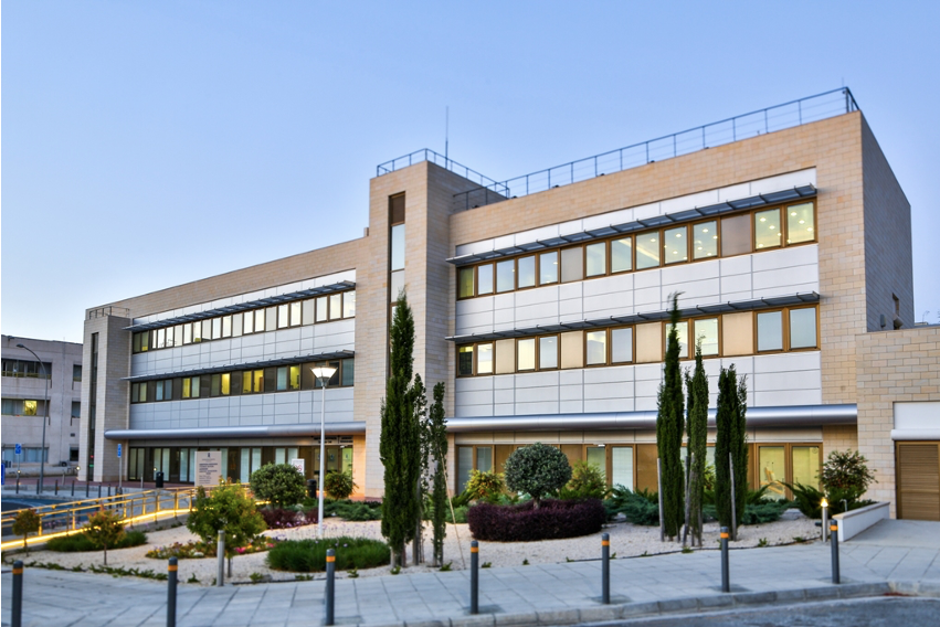 The Bank of Cyprus Oncolocy Centre
The Centre staff are highly qualified and in many cases have been with the Centre since its foundation.
Part 2: The Project
In mid-2018, the Centre began work on drawing up the specifications for an international tender to replace the existing linear accelerators. These machines had been in service since 2002 and 2010, treating thousands of patients in Cyprus. Now at the end of their serviceable life, the Bank of Cyprus had agreed to finance their replacement.
Mr. Panos Ergatoudes is the Chief Operating Officer of the Bank of Cyprus Oncology Centre. Panos and his staff are responsible for balancing a delicate organisation that makes a material difference to the survival of thousands of patients every day.
Handling the procurement, installation and commissioning of the three accellerators would be a major task. On the one hand, the tender itself would be complex. There were not many suppliers of such technology in Cyprus, and it was necessary to get real competition among suppliers.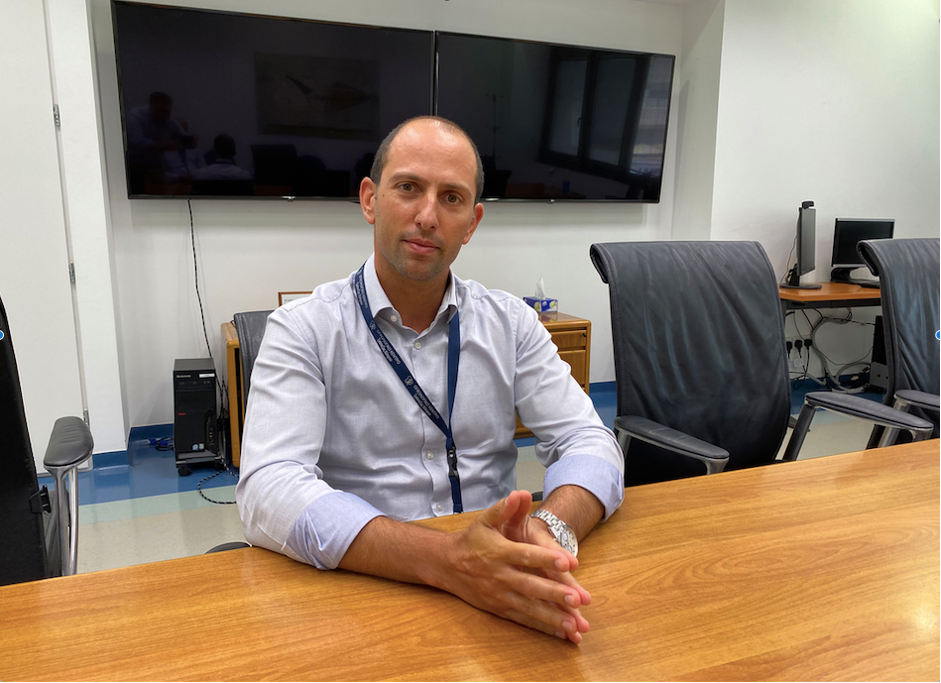 Mr. Panos Ergatoudes, CEO, Bank of Cyprus Oncology Centre
On the other hand, it would be necessary to manage a complex transition. Besides the delivery, installation and commissioning of machines, there would be two key issues to look after:
The changeover would inevitably mean that existing capacity would be removed as older machines were replaced with new ones. This meant that fewer patients could be treated.

The new technology would also require staff training and familiarisation, especially with the software programmes.
By November 2018, the tender was completed. Attikouris Medical, a medical technology company based in Limassol, had won the tender. Although the company was well-known for representing and supporting leading medical technology companies, this was the first time it would be responsible for a project this big.
Another challenge was the cost. The overall budget for the three new linear accelerators is valued at nearly € 10 million. This cost includes the highly complex process of installation, commissioning, training, calibration and launch. It is a major investment.
As Georgia Attikouri, Chief Financial Officer of Attikouris Medical stated:
It's definitely a major investment. The investment is not only in capital equipment and works, but in learning a new operating and diagnostic system. But the productivity and uptime of the equipment is significant. At the Bank of Cyprus Oncology Centre, we plan on a standard schedule of 45 patients per day per accelerator. Assuming a 6-day week, that's 14,040 patients per year per accelerator. And we expect the accelerators to last well beyond 10 years each. When we consider that cost, plus the fact that patients can be treated in Cyprus in a word-class facility, and not have to travel abroad, then it is an excellent investment. Above all, it's an investment in health, and in the future.
Part 3: Installation
The first deadline was in March 2019. On a rainy day, the first Varian Truebeam Linear Accelerator arrived in Limassol Port. From there, it was carefully loaded onto a truck and transported to Nicosia, where installation began.
The installation process is complex. In addition to the accelerator itself, a vast amount of structural engineering is needed for the treatment room itself. This requires foundational support, radiation shielding, and power supply strengthening.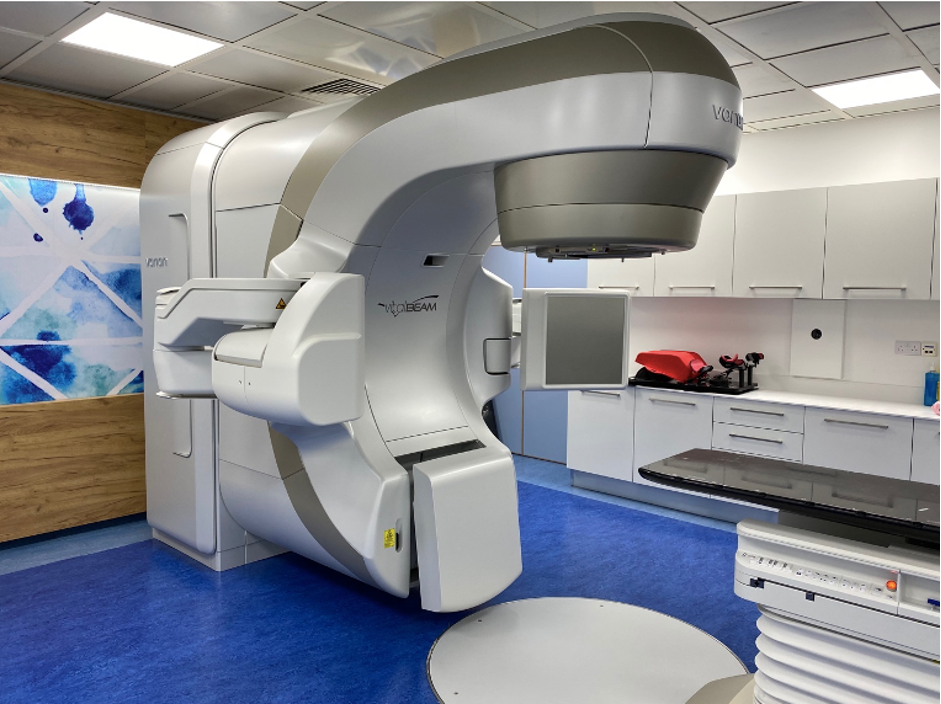 One of three Varian accelerators installed by Attikouris Medical at the Bank of Cyprus Oncology Centre
The fact that the treatment room engineering and installation was done in parallel with two other operating rooms was a challenge.
Each Varian Truebeam line is a marvel of medical engineering. It provides the high-precision imagery required for stereotactic radiosurgery and radio therapy. This includes synchornising images with respiration, avoiding image distortion. Triggered and iterative imaging allows radiologists and oncologists to build up an extremely high resolution image of the cancer, which in turns improves the accuracy of treatment.
This treats cancer tumor and lesions on the entire body, including the very sensitive head, lungs, breast and neck regions of the human body. The treatment methods include state-of-the-art conventional Intensity Modulated Radiation Therapy (IMRT); Image Guided Radiotherapy (IGRT); Stereotactic Radiosurgery (SRS); and Stereotactic Body Radiotherapy (STB).
Each Varian accelerator is equipped with 6-dimensional treatment couch with a surface guidance system and respiratory guiding. This means that the equipment rotates to provide therapy around the human body, increasing accuracy and precision.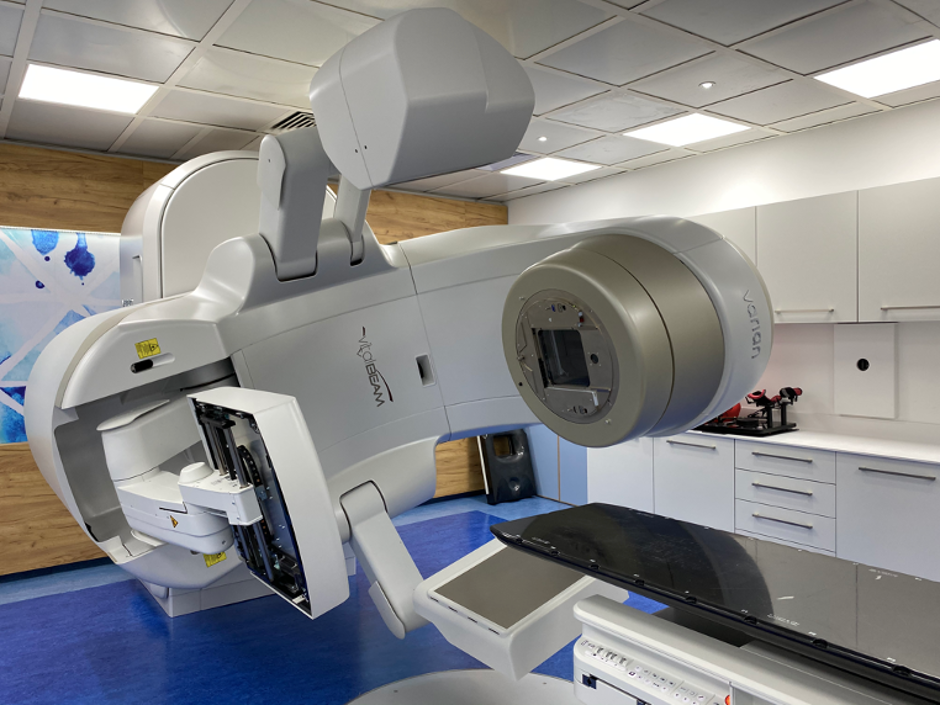 Each Varian accelerator can achieve a 90-degree rotation from vertical, enabling more accurate treatment of sensitive patient areas such as the head and neck
Kyriakos Frangou is Manager of the Attikouris Medical Division. More than anyone else, Kyriakos has been involved in the entire process of delivering, installing, testing and supporting the three linear accelerators. In his words:
"We knew that the delivery of the first accelerator was the start of a long journey. We had to ensure that the entire project was delivered faultlessly. This involved setting up, installing, calibrating and commissioning support for three state-of-the-art linear accelerators, while at the same time supporting the decommissioning of the three older ones. We needed to ensure the treatment rooms were up to spec. We needed to cross-train the Oncology Centre staff in the new software and treatment protocols. And we needed to do this while ensure that the Centre's cancer patients could continue receiving high quality care without disturbances or volatility."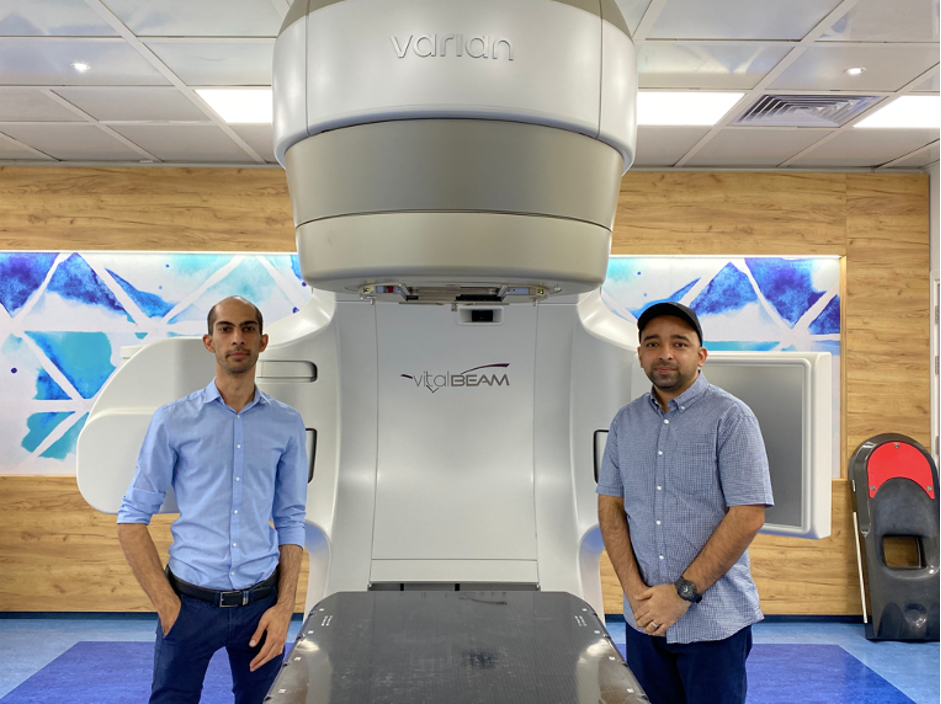 Mr. Kyriakos Frangou, Manager of the Attikouris Medical Division (left) and Mr. Subin Padmanabhan, Attikouris Medical Field Engineer, devoted thousands of work hours to the project
Part 4: Commissioning and Training
With installation of the three linear accelerators underway, the next step was to ensure commissioning and staff training. Varian and Attikouris Medical supported this process.
Varian sent an installation engineer and an application support specialist for system commissioning, training and support. The Truebeam and Vitalbeam Accelerators can also be monitored online. The equipment is sophisticated enough that images taken can even be used for remote diagnosis.
Mr. Petros Michaeloudes is the Senior Radiographer in charge of the treatment floor. He is directly responsible for treatment provided by the three Varian Linear Accelerators, and manages over 8 radiotherapists.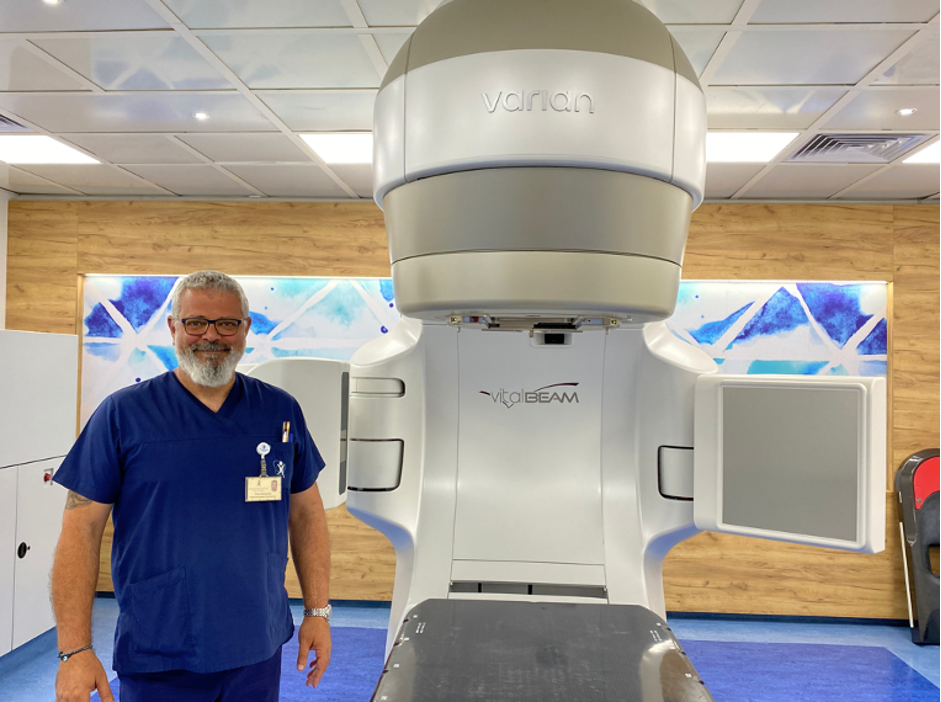 Dr. Petros Michaeloudes, Senior Radiographer at the Oncology Centre
As he explains, a key challenge was to be able to learn the new system of imaging and software, while at the same time maintaining and continuing the older lines as they were gradually decommissioned and removed.
Everyone was slightly apprehensive of making the change. The older lines had been in operation since 2008: making the change required a full retraining.
But the training went smoothly. Helped by two trainers from Varian, the Oncology Centre staff were able to make the transition quickly. As Petros says:
We had never worked with Varian before. It was crucial to be trained in such a way that with the first patient, our mind was to put on ease. This was anticipated by both trainers: they did an excellent job.
They anticipated and understood our situation and right from the beginning they did a custom training according to our needs. They were flexible during the training to accommodate all questions we had. They really helped us.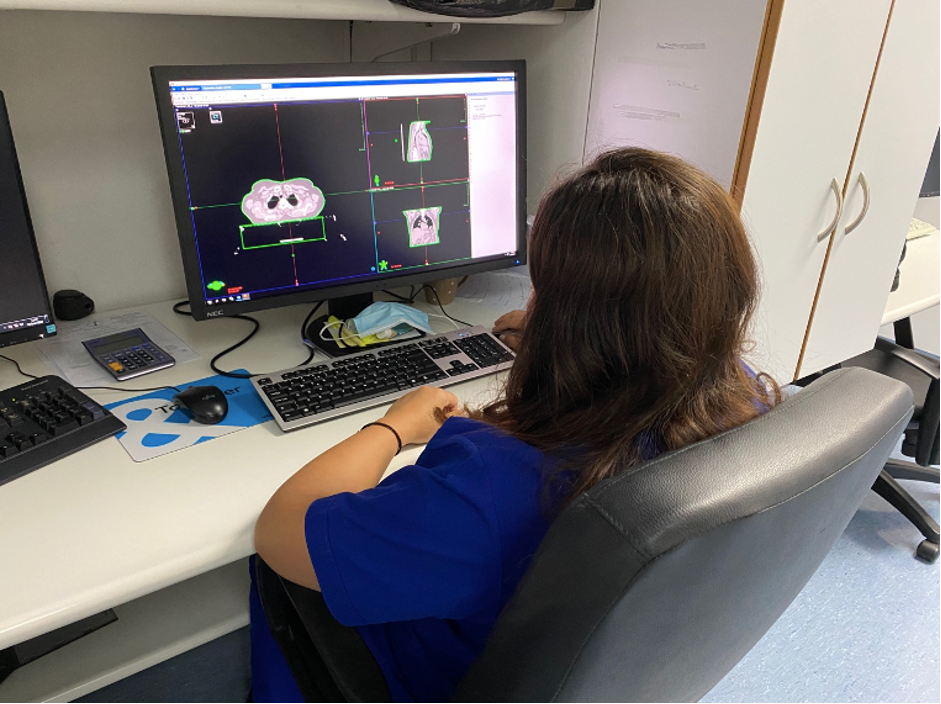 One of the key worries faced by the Oncology Centre staff was the transition to new accelerator software, which was vital for imaging and diagnosis.
Maintaining the Varian accelerators requires meticulous and careful planning. The three accelerators are available for clinical use from 07:00 – 20:00. After that, Attikouris Medical's full-time field engineer, Subin is on site for quality assessment, calibration and maintenance.
Subin joined Attikouris Medical after working on Varian equipment in Dubai. He moved full-time to Cyprus in March 2019 to support the project, providing round-the-clock technical support. As he recounts:
"The Varian Truebeam and Vitalbeam linacs are both technologically advanced and highly complex. All parts are integrated here at the centre. In the first few months, each customer will face some issues in terms of equipment stability and calibration. But we are here to make sure these issues are resolved, and we have been successful."
The joint objective of both the Oncology Centre and Attikouris Medical is 100% uptime. One accelerator has been in operation for one year, and has achieved 99.5% uptime, which is excellent performance for the first year.
Dr. Andri Peraticou is Director of Medical Physics at the Bank of Cyprus Oncology Centre. Her impression of the training and wider Varian performance is delivered from the viewpoint of an expert specialist:
"The software is extremely good: more efficient. … I'm on the radiation safety committee. Since we got the new software, our radiation incidents have gone down. It's such an integrated system that it is safer."
Mr. Panos Ergatoudes, the CEO, looked back at this ambitious project and reflected:
"The difficult part is shifting from one supplier to another. … This involves different philosophy, procedures, operations. Happily, looking back, the two teams from Attikouris and the Bank of Cyprus Oncology Centre worked well together. The transition was smooth. … By the outset of the COVID-19 Pandemic, 98% of the project was completed on time and on budget."
Part 5: Looking Forward
From its foundation, the Bank of Cyprus Oncology Centre has changed the landscape of cancer treatment in Cyprus.
Rather than going on long and expensive trips for cancer treatment abroad, most Cypriots can now stay and home, and be treated in Cyprus. There are very few cases that now need to leave Cyprus due to treatment availability: these are usually in very rare cases of cancer.
With three state-of-the-art linear accelerators, the Oncology Centre has continued its work, committed to its patients and a high standard of case.
Dr. Demetris Andreopoulos is Director of Radiotherapy at the Oncology Centre. He is responsible for the entire division: over 25 staff dedicated to providing the highest quality of care to Cypriot patients who are a cross-section of society. He was also the first employee of the Bank of Cyprus Oncology Centre when it was founded in 1999.
We asked Dr. Andreopoulos how he evaluated the future of cancer treatment and radiotherapy in Cyprus.
"As long as technology advances – as long as it becomes more complex – you have to increase and improve your own quality checks, monitoring and training. I've been 35 years in oncology radiation. We are continually increasing radiation doses. The higher the dose of radiation you give, the more you have to be careful. The linear accelerators don't do this automatically: you need to control and manage this. This requires dedicated, specialized staff; the staff must work unobstructed, with a clean mind. We shouldn't think that because the equipment is new, we can do more patients."
The commitment to quality is a hallmark of the Oncology Centre. This is expressed not only through the constant training and development the staff undergo, but in the quality of care they provide their patients.
Cancer is a disease that can affect everyone in Cyprus. Every patient is someone's brother or sister, husband or wife, son or daughter. That commitment to care is clearly visible among the staff of the Oncology Centre.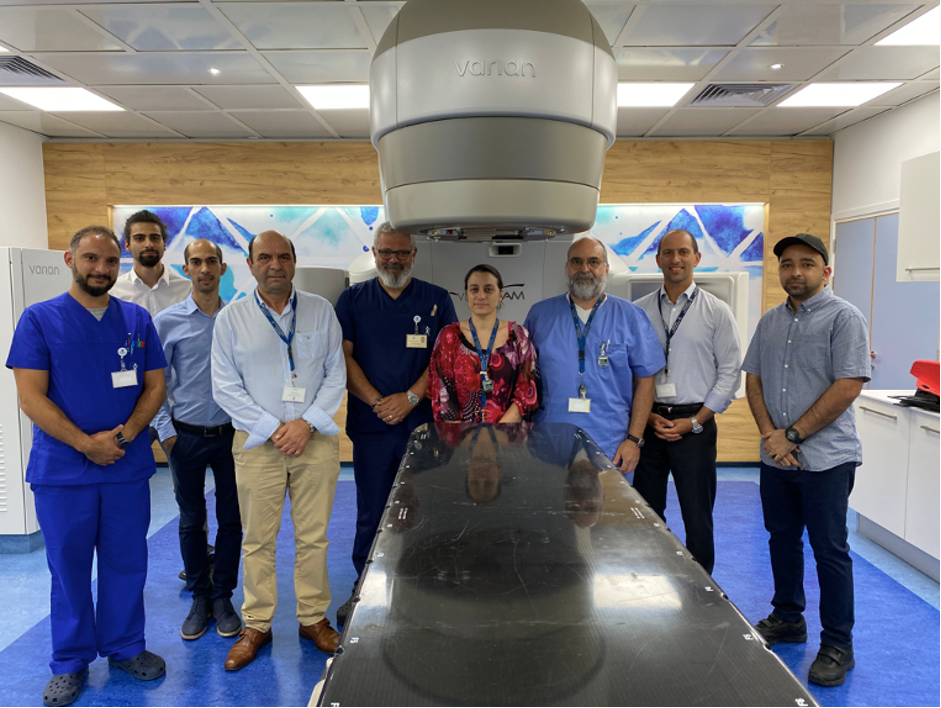 The Oncology Centre and Attikouris Medical Team in front of the Varian Vitalbeam installed. From left: Mr. Christos Shakas, Ration Therapist; Mr. Dimitris Attikouris, Attikouris Medical; Mr. Kyriacos Frangou, Attikouris Medical Division Manager ; Costas Attikouris, Founder of Attikouris Medical; Dr. Petros Michaeloudes, Senior Radiologist; Dr. Andri Peraticou, Director of Medical Physics; Dr. Demetris Andreooulos, Director of Radiotherapy; Mr. Panos Ergatoudes, CEO of the Bank of Cyprus Oncology Centre; and Subin Padmanabhan Attikouris Medical Field Engineer.
As Dr. Andreopoulos continues:
"Our policy: if a machine breaks, no patient loses their slot for therapy. All staff are committed. Once, years ago we had 2 broken machines, out of three in service. The patients whose sessions had to be cancelled were asked to come in on weekends. There is a biological clock involved. We have to follow protocol.
We have no waiting list. If I decide today that a patient should start treatment tomorrow out of medical necessity, they start tomorrow. We work 24/7 if needed."
Mr. Panos Ergatoudes, CEO of the Oncology Centre, was asked how he saw cancer treatment evolving in the future. His response:
"Cancer prevalence is not higher in Cyprus but it's a small community. More people can come to be treated. Treatment is more advanced that it was 10 years ago, and there are more treatment options. Technology is also advancing. Radiational oncologists have better tools to give treatment that they want. Same as medical oncology: advancement into medicine. In the past, the discovery of specific tumors, such as pancreas or liver, meant that a patient's life was typically measured 6-12 months. Today, with treatment, the patient can live for 5-7 year, or more.
We have managed to increase public awareness of cancer. We have to tell ourselves: don't be afraid of it. It's another disease. People need to live with it, support those that have it. Live a normal life, as far as possible."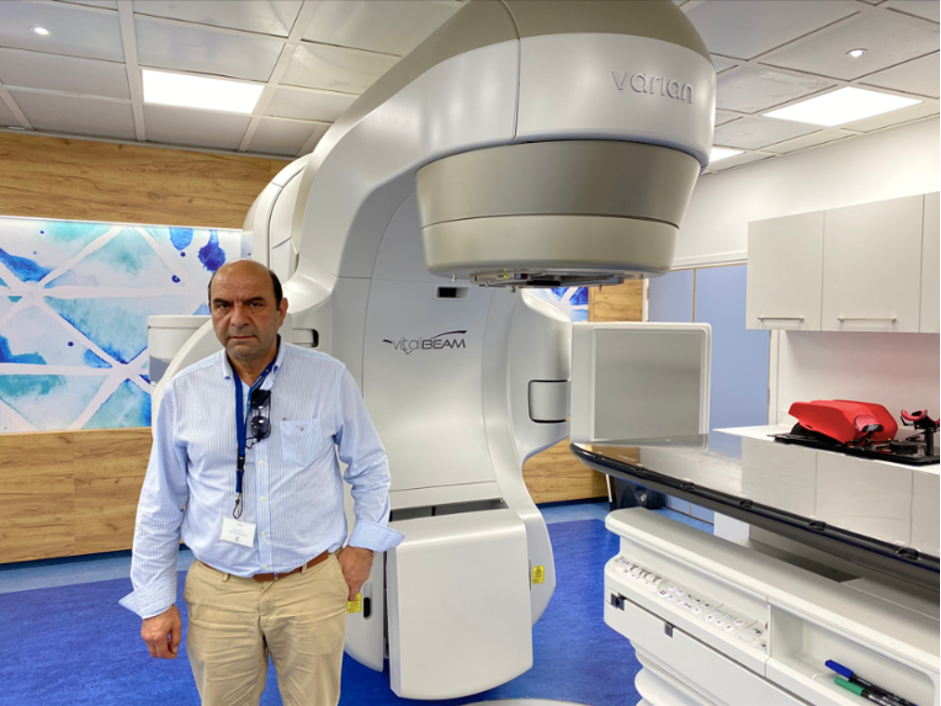 Mr. Costas Attikouris, Founder and Director of Attikouris Medical
Costas Attikouris, Founder and Director of Attikouris Medical, looks back at the 18 months of the project and reflects:
"We know that in working with Varian, we had one of the top technology providers in the world backing us up. And we know that in working with the Bank of Cyprus Oncology Centre, we were implementing a project that was critical for our country and our people. I am honoured to say that we have succeeded. It has been a great learning experience, and one we are committed to repeating with every single one of our clients."