Join Richard Paxman and guests for an online seminar on COVID-19 and patient care in chemotherapy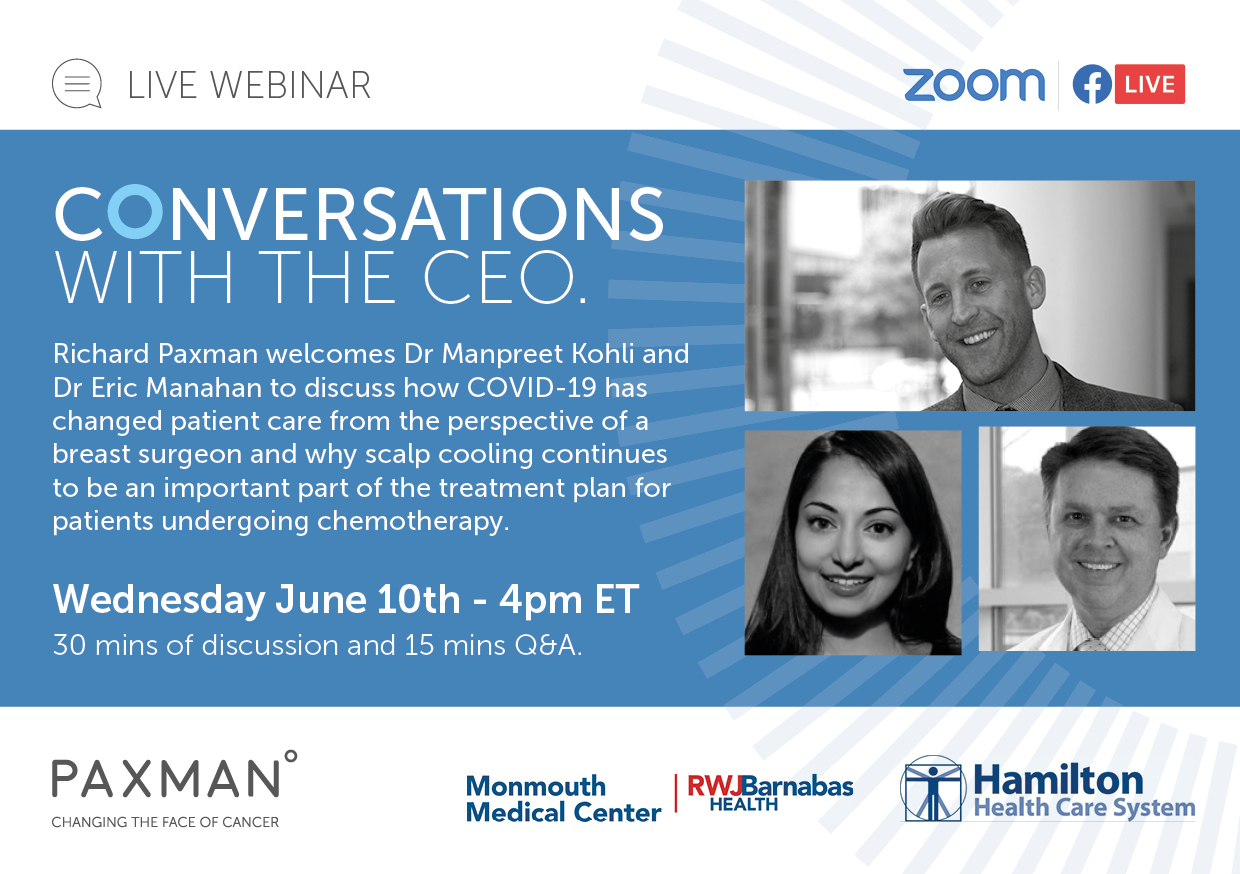 Posted at: 05 Jun 20
The COVID-19 Pandemic has radically affected hospital operations world-wide. Join Richard Paxman, Dr. Manpreet Kohli and Dr. Eric Manahan for a free online discussion on how Covid-19 has changed patient care from the perspective of a breast surgeon and why scalp cooling continues to be an important part of the treatment plan for patients about to undergo chemotherapy.
JUNE 10 2020, 4PM ET – REGISTER HERE >
The seminar is free and will be held online in Zoom and Facebook Live.
Richard Paxman is Chief Executive Officer of Paxman Scalp Cooling. Paxman has been pioneering scalp cooling technology for over a quarter of a century. Its clinically proven cold cap system has helped over 100,000 cancer patients in more than 25 countries worldwide, including Cyprus, to retain their hair during chemotherapy.
Dr. Manpreet Kohli, a Barnabas Health Medical Group board-certified and fellowship trained breast surgeon, joined Monmouth Medical Center in 2015. She currently serves as the Cancer Liaison Physician on behalf of the American College of Surgeons Commission on Cancer (CoC) for Monmouth Medical Center's Comprehensive Cancer Program. Dr. Kohli is a Clinical Assistant Professor for Rutgers-Robert Wood Johnson Medical School and actively involved in Monmouth Medical Center's General Surgery Residency Program.
She is a member of the American College of Surgeons, American Society of Breast Surgeons, American Society of Clinical Oncology, and Association of Women Surgeons. She has a significant interest in the diagnosis and treatment of patients with malignant diseases and is a member of the multidisciplinary cancer committee at Monmouth Medical Center.
Dr. Eric Manahan is a board certified general surgeon in Dalton, GA, since 2001. He joined Hamilton Physician Group in July 2018. He previously served as the Medical Director of Southeastern Breast Care Specialists and a partner in Dalton Surgical Group.
In addition to his position on the board of directors for the American Society of Breast Surgeons, Dr. Manahan has been very active in Breast Fellow education and has served on the Education Committee of the ASBrS since 2011. He currently co-chairs the Fellows Education Committee and is a member of the Corporate Relations Committee. He also serves as the ASBrS representative to the Society of Surgical Oncology (SSO) Training Committee.He has special interests in percutaneous breast procedures and is involved with several national clinical trials relating to breast cancer including cryoablation.
JUNE 10 2020, 4PM ET – REGISTER HERE >
Attikouris Medical is proud to represent Paxman Scalp Cooling in Cyprus. We specialise in high technology cancer diagnosis and therapy equipment and treatment consumables. For further information, please contact us.