Attikouris Medical presents Covid-19 Dermalog Camera Prevention System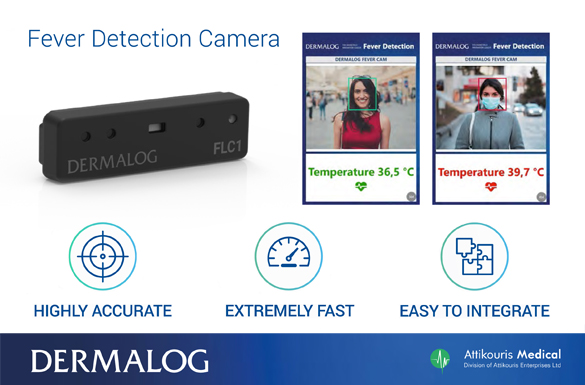 Posted at: 04 May 20
When it comes to a viral infection, fever is one of the most frequent symptoms and according to the International Institutes, Covid-19 most often causes an increase in body temperature.
Therefore, controlling the transmission and spread of the disease requires temperature monitoring as a precautionary measure. Temperature monitoring is expected to become essential in our daily lives in managing any future pandemic virus.
As part of our ongoing efforts to support our partners, especially during the Covid-19 crisis, we would like to inform you that Attikouris Medical is pleased to present in Cyprus the innovative camera of the German company Dermalog for body temperature detection.
Below are some significant features:
Operator doing the measurement is not required.
• Up to 5 persons' temperature can be measured at the same time within a range of 0.5 to 2 meters safety distance.
• Highly Accurate (even from a distance of up to 2 meters). Most fever detection devices require a short distance of less than 1.5 meters between two persons. As such they are of high risk both persons in terms of virus transmission.
• Detects body temperature by scanning people's faces using state-of-the-art sensor technology.
• Extremely Fast.
• Easy to integrate into existing security systems (results in faster installations/reduced additional costs of purchasing a complete new system).
• Available in various configurations to simplify the system's integration.
• Multiple installation options.
If an increased temperature is detected, the system sets off an alarm or even denies access as part of an automated access control system.
The Dermalog's technology is already in use globally and it is suitable for and not limited to border controls, airports, trade fairs, factories, banks, offices, shopping centers, hotels, schools, authority locations, healthcare facilities, hospitals and nursing homes.
For additional information please contact:
Kyriakos Frangou
Email: kyriakos.frangou@attikouris.com
Tel: 99727232