Temperature Detection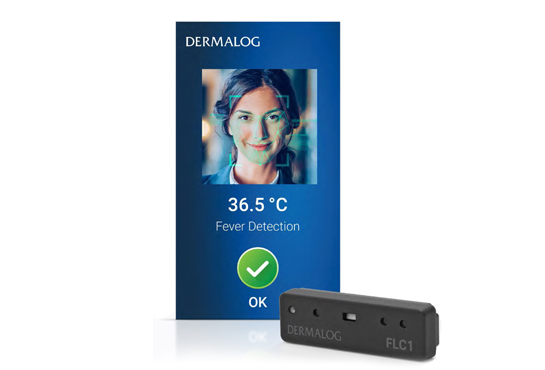 Fever Detection Camera FLC1
Product Code:
Increasing safety with biometric fever screening
DERMALOG´s latest Fever Detection Camera will enables the most accurate and fastest fever screening of passengers at national borders and airports, as well as a secure fever screening for shops, offices, buildings exhibitions and many more areas in Cyprus.
DERMALOG Fever Detection Camera measures body temperature with outstanding accuracy and speed to make a significant contribution to the containment of pandemics, for reducing significantly the risk of infection spreading in many areas of our daily life in Cyprus.
According to the German Robert Koch Institute, almost 90% of infected people by COVID-19 in China early in 2020, have been diagnosed with fever.
The DERMALOG camera can simultaneously check up to 5 people for fever. If an increased temperature is detected, the system sets off an alarm or even denies access, for example, as part of an automated access control system.
When using a handheld thermometer, the recommended safety distance cannot be maintained, which leads more quickly to infections. In contrast, DERMALOG's automatic Fever Detection Camera does not require any additional operating personnel and, as a result, ensures extra safety.
Highly Accurate
DERMALOG's Fever Detection Camera provides high measuring accuracy within a distance of up to 2 meters.
Extremely Fast
As a real-time screening system, DERMALOG's Fever Detection Camera does not cause any operational delays.
Easy to Implement
Thanks to its compact dimensions, the DERMALOG Fever Detection Camera integrates into any application.
Applications for DERMALOG Fever Detection
Airports
Border Control
E-Gates / E-Kiosks
Banks
Hotels
Exhibitions and Congresses
Government Buildings
Ships
Marketplaces
Offices
Public transport
Retailers
Supermarkets
Schools and Universities
Retirement
Homes
Nursing
Homes
Hospitals
Stadiums
Shops
etc.
DERMALOG has shaped the world of security for over 25 years and keeps on revolutionizing biometric security products and solutions. Governmental organizations, public and private businesses all over the world trust DERMALOG's expertise and state of the art biometric products. DERMALOG Identification Systems GmbH, based in Hamburg, is the largest German biometrics manufacturer and is known as the Biometrics Innovation Leader.

Other Products from this category